It Came!!! I was so excited to go to my mailbox and see my gift from the wonderful Katherine from
Third Grade Teacher Files
that see made me while participating in the Pinterest Exchange Linky hosted by
Teacher Blogger Exchange
. I was a much needed pick-me-up after a long day! Something about the weather, combined with coming back from April Break, and looking forward to Nature's Classroom just has my kids off the walls! So, Katherine - THANK YOU FOR MAKING MY DAY!!!
Here's a few pictures of the wonderful items she made, just for me!
See the adorable clipboard with my name in pink! It has dots, and stripes, and everything I love, including a fluff of ribbon! Katherine also included some sparkly gel pens - which always make grading papers much happier!
Additionally, she personalized a fabulous little journal to match, with my initial on it! This will be perfect for jotting down quick notes. It is going in my purse right away!
Would you like to see what I made? Here's a picture, but I won't give away the recipient, since she has yet to post about it.
These are clay pots that I painted in her favorite colors. I then added the polka dots on the rim. The bottoms of the pots I painted with chalkboard paint, so she can label them and change up their labels however she wants. She does a lot of crafting with her kiddos in the classroom, so I know she will put these to great use!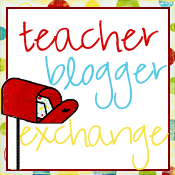 Also - don't forget about my giveaway...once you follow my blog, post a comment on my giveaway blog post to be entered into a giveaway for a $10 gift certificate to amazon.com - my favorite store!